Sleep is one of the most basic human needs. A good night's sleep may have a significant positive influence on our life. Several factors influence our sleep, including physical, emotional, and environmental factors. A decent and comfortable bed and mattress can significantly improve your sleep. Choose a mattress that fits your comfort for a sound sleep from your nearest bed store.
There are different kinds of factors affect our sleep cycle. Even our food choices can influence our sleep patterns. Some can improve our sleep while others can cause the contrary effect. Some studies have found that eating before bed can contribute to obesity and that eating high-fat or high-carbohydrate meals close to bedtime might make it harder to fall asleep. Choosing the right snack before bedtime is as important as choosing the right mattress from a bed store.
Choosing a nighttime snack or food might be tricky because it can influence sleep. A fundamental 150-calorie option that is high in nutrients may be the ideal midnight snack for a group of individuals. One study found that eating a low-carb meal or a protein snack half an hour before bedtime increased metabolism during the day. You may choose from a variety of nutritious snacks that require no preparation, such as fruit, nuts, seeds, and oats.
Some of them are:

Walnuts and almonds include natural melatonin, protein, and magnesium. According to a study, magnesium may help alleviate sleeplessness in elderly persons. One ounce of dehydrated roasted almonds contains 80 milligrams (mg) of magnesium, generating a healthy source of the mineral According to research, obtaining enough magnesium in your diet may aid you to sleep better, especially if you suffer from insomnia.
Magnesium is abundant in almonds and bananas. Magnesium is thought to help regulate the timekeeping systems of plants, animals, and humans, and it may help with sleep.
A serving size of a banana and one ounce of almonds offers a little over 100 milligrams of magnesium. Bananas are also high in potassium, which has been shown to improve sleep quality in women.
Oatmeal, either hot or cold can help your body adapt to sleep and maintain you satisfied all night. Oats contain often magnesium and melatonin, which is a sleep hormone. For a quick and easy evening snack, make a batch of overnight oats with dried fruits and nuts.
You will love this snack if you are a fan of hot milk before bed. Hot milk itself can act as a relaxing agent and the calcium in it can promote melatonin production. But liquid might not be enough before bed. Pour that milk over your preferred low-sugar high-fiber cereal. The high glycemic carbs in the cereal can aid you to fall asleep faster.
Popcorn is one of the classy snacks when it comes to bedtime snacks. Popcorn is a complete and high grain in fiber and carbohydrates. Carbohydrates increase the brain's availability of tryptophan, an amino acid necessary for sleep. According to one research, foods like popcorn and almonds promote more sleep than foods like burgers and pizza.
Fruits are excellent sources of essential vitamins and minerals. It's equally likely that eating certain fruits before night can aid you to sleep better. Studies have found that tart cherries, kiwis, pineapple, oranges, bananas, and liquids increase melatonin levels in the body, making it simpler to fall asleep.
High-salt diets have been associated with poor sleep quality. Unsalted nuts and seeds might serve as a great replacement for salty meals like potato chips. Pistachios, pumpkin seeds, cashews, and walnuts are abundant sources of melatonin, amino acids, and serotonin.
Better sleep leads to better days with more energy and vitality. That will help you focus on your desire and goals. Recognize the elements influencing your sleep and make changes to maintain a healthy sleep pattern. Not just with your eating habits, but also with a mattress and bed from the top bed store near you that may aid your sleep cycle. Pay attention to your sleep because it is a natural immune booster.
American beds:  Mattresses and bed store in Bahrain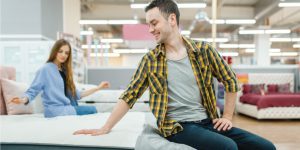 American Beds is one of the prominent mattress retailers in Bahrain, offering a broad range of beds and mattresses to suit your needs. We guarantee product quality and client happiness. Other sleep items and accessories are available from American Beds in addition to beds and mattresses. Come enjoy a good night's sleep with American Beds, the premium mattress store in Bahrain.